We offer a wide range of clubs and activities that complement the school curriculum. Children across all of our Key Stages are encouraged to participate in all the clubs.
Tae Kwon-do     MFL & ICT   Lego   Football   Netball   Ballet
Funky Jazz     Time Travellers   Creative Writing   Turkish   Brass Group   Computing
Senior Choir   Mandarin   Running Club    Fun Club    Dance    Multisports
  Yoga   Eco Club    Knex   Art    Music & Movement   Puzzle
---
Breaside Adventurers Holiday Camps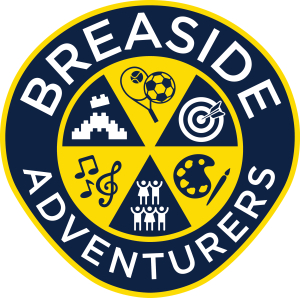 Breaside Adventurers Holiday Camp is run by Breaside Staff and offers our children aged 2½-11years a wide range of activities and sports sure to keep your children entertained, allowing them lots of  fun learning opportunities too! Every day the children will have brand new experiences, make lots of new friends and of course have lots and lots of fun.
Your children will have the opportunity to take part in a  variety of activities on offer including Archery, Lego Building & Design, Arts & Crafts, Sports and many other team experiences.
Our holiday camp is run by a Team Leader, Safeguarding Lead and a Paediatric first aider  who will be on site at all times.
---
We believe that learning does not just take place within the classroom and a variety of trips to places of interest are organised for each year group throughout the year. In Year 5, the pupils are offered the opportunity of taking part in an activities week in Dorset, where they can try a variety of outward-bound activities. The Year 6 trip to France gives our pupils the opportunity to practise their language skill as well as continue their outdoor pursuits.
---
Instrumental and Vocal Tuition at Breaside 
Over 180 students receive instrumental or vocal lessons each week at Breaside and we have a large team of experienced specialist music teachers. Lessons are either provided by staff from Bromley Youth Music Trust (known as BYMT) or by self-employed visiting music teachers.
What can students learn? 
We are currently able to offer individual lessons to pupils who are in Years 1-6 on the following instruments:  
Strings:           Violin, Viola, Cello
Woodwind:    Flute, Saxophone, Clarinet, Recorder
Fife, Toot, J-Sax, Dood are smaller versions of wind instruments that may be more suitable for beginners, and the teacher will advise.
Brass:              Trumpet, Cornet, Trombone, Baritone
Other:             Drum kit, Singing, Guitar, Piano
When and where will they have the lessons? 
Lessons take place during the school day.  Pupils come out of lessons to attend, but the timetable is worked out on a rotation basis so they do not miss the same lesson each week.
How much do lessons cost? 
£200 per term for individual 30 minute lessons
£133 per term for individual 20 minute lessons
£100 per term for individual 15 minute lessons
How do I pay? 
Once we have received your application/agreement forms, we will pass your details to one of our teachers and you will receive an invoice and other information from them.
Are there any instrumental/vocal lessons you would particularly recommend? 
All are as worthwhile as each other, but do bear in mind that orchestral instruments such as violin, cello, flute etc are ideal first instruments that can play together in ensembles, and so your child will be able to make music with their friends more quickly. For any instrument the most important thing is that your child attends lessons regularly and practises during the week. Just ten minutes a day can make all the difference to progress! 
What do I do about obtaining an instrument? 
If you are applying for piano lessons you will need a piano at home. Some children do start by learning on an electric keyboard, but this is quite a different instrument and progress in the long term will be hampered. If you decide to buy/hire an instrument please seek advice before doing so. We recommend hiring from the Music Hub at BYMT or Saunders Music. Please visit their websites for further information: BYMT https://musichubsales.org.uk 07768 312270 and Saunders Music http://www.saundersmusic.co.uk 01732 740755
We are also in the process of buying some high quality smaller sized melody instruments for beginners that you can rent from school. Please contact Mrs Eastwood for details.
How do I apply for music lessons? 
Simply fill in the online form below and return it to Mrs Eastwood at chrissy.eastwood@breaside.co.uk
 When do lessons start? 
The first set of 10 (out of 30) lessons commence in September. It is possible to apply for lessons at any point in the school year, however we often have a waiting list therefore children may have to wait until a slot becomes available.
What happens if we want to stop music lessons? 
You need to email/write to Mrs Eastwood and the instrumental teacher by half term.  Lessons can only stop at the end of a set of 10 – not part way through.
Will learning an instrument help my child's education? 
Yes, we believe so.  There is an increasing body of evidence to suggest that children learning an instrument not only improve their social and practical skills, but their progress and achievement in other subjects increases as they develop their listening, comprehension and reading skills.
If you wish to proceed with an application then please fill in this online form – https://forms.office.com/Pages/ResponsePage.aspx?id=gtzSBu1vO02SGDfTT7BAW_XwKjXnWVxIi7BQhxLbzrhUNVJMT1FKSERJN1NBUk9VUFVVVVNZVlhJRy4u
---