Our Early Years is a happy place where children are motivated and encouraged to learn from the tender age of 2½ years of age. We have a complement of very experienced Early Years Teaching Staff who create this wonderful learning environment. There is a balance of learning through play and teacher initiated activities.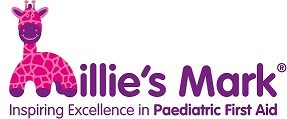 Breaside have been awarded Millie's Mark!  This is a great achievement for us as a school and we are grateful for all the hard work and commitment from our staff  towards helping us to exceed health & safety and paediatric first aid requirements.
Millie's Mark is only awarded as a special endorsement to childcare providers that go above and beyond the minimum requirements by having 100% of staff trained in paediatric first aid, and also ensuring that everything learned during the course is kept alive and in the forefront of practitioners' minds so that they are confident, ready and capable.
Our youngest children are given the opportunity to take part in Gymnastics, French and Music which are taught by our specialist teachers and this continues through to Year 6. At this young age our Kindergarten children gain the independence and confidence needed for later in life.

Early Years and Reception Curriculum
The Early Years Foundation Stage Curriculum is organised into six areas of development and learning. There are 7 areas of Learning and Development and 17 Early Learning Goals connected to one another and equally important.
Three Prime Areas:
Communication and language
Physical development
Personal, social and emotional development
Four Specific Areas:
Literacy
Mathematics
Understanding the world
Expressive arts and design
---
Communication and language
Do the children develop skills of speaking and listening?
Can the children show understanding ('how?', 'why?')?
Are the children developing speaking skills?
Physical Development
Moving and handling (good control and coordination)
Health and self-care (healthy diet, basic personal hygiene – dressing and toileting)
Personal, social and emotional development 
Self-confidence and self-awareness
Managing feelings and behaviour
Making relationships – cooperative play, taking turns
---
Literacy
Reading: read and understand simple sentences, using phonic knowledge
Writing: simple sentences
Mathematics
Numbers
Count to 20
One more or less
+ – two single digit numbers
Problem solving, including doubling, halving, sharing
Shape, space and measure: size, weight, capacity, position, time, distance and money.
Understanding the world
Exploring and using media and materials: songs, music, dance; materials- colour, design, texture, form and function
Being imaginative: media and materials – uses and purposes; design, technology, art, music, dance, role-play and stories
---
Our children enter the Kindergarten at 2½ years of age. Our Early Years Foundation Stage Curriculum is broad and balanced and great emphasis is placed on the child's individual needs and progress. We combine a variety of teaching and learning activities to help the children to learn through play as well as starting their journey on the learning of phonics and numbers. By working with the children in small groups, we are able to help the children develop in many ways and to prepare them for their life in the Reception classes.
The Kindergarten has a wonderful ethos where our youngest children can experience their first taste of Breaside and the children learn in a colourful and stimulating environment. Our Kindergarten children develop their confidence and self-esteem in other areas too such as in their performances to parents and friends at Harvest, Christmas, Mother's Day, Easter Parade, as well as regular concerts and musical medleys.
Children start to learn about the world around them from the moment they are born. The care and education offered by Breaside Kindergarten helps children to continue to do this by providing all of the children with interesting activities that are right for their age and stage of development.
For children between the ages of 2½ and 5 years, the Kindergarten provides a curriculum for the Early Years Foundation stage of education. This curriculum is set out in the attached document, published by the Qualifications and Curriculum Authority and the Department for Education and Skills, and called Curriculum Guidance for the Foundation Stage.  Kindergarten follows this guidance.
Our youngest children are always happy and confident. Our very experienced teachers ensure that the children are learning through many well organised and resourced activities throughout the day. The day begins with a very warm welcome and children are given the opportunity to find their own names, learn about the days of the week, the weather, singing songs and listen to a story.
Social skills in the Kindergarten are a very important part of their learning. Children are encouraged to be polite, well-mannered and independent individuals. When you walk through the door and meet them all you will see this for yourself. Please come and visit us soon!
At Breaside our Reception classes continue their learning through the Early Years Foundation Stage Curriculum and follow guidelines set out in a document, published by the Qualifications and Curriculum Authority and the Department for Education and Skills, and called Curriculum Guidance for the Foundation Stage (also attached).   Our children then progress to the Key Stage One.
Key Stage One Curriculum
At Breaside children from Kindergarten through to Year 6 are given the opportunity to be educated by our team of specialist teaching staff.
Science is taught by a specialist teacher in a dedicated, fully resourced classroom to pupils from Year 2 upwards. We have an interactive whiteboard and IT resources including a variety of computer simulations for teaching topics such as the Earth, Sun, Moon and Gases around us. We have a wide range of biological models, measuring and circuits equipment together with vibrant, colourful posters and textbooks.
French is taught in the infants department from Kindergarten upwards. Spanish and German clubs are also on offer and as a school we are very aware of the future needs of our children in the global economy in which we live.
Art – All our children participate in art and craft activities where they can develop their powers of observation, technical skill, presentation and individual creativity.
Sport – At Breaside, we encourage healthy competition in PE and Sports, offering fixtures with other schools and the teaching and practising of skills in lessons. We consider sport to be an integral part of education and development. Our Sports Days are held in the summer term to which all parents are invited. As well as making full use of our own facilities, the school also has use of the local cricket club for lessons.
ICT is taught in the infants department from Reception upwards. Many opportunities are provided for all of our children from photography, computerised toys,  interactive whiteboards and of course our fully equipped ICT suite.
The learning environment, activities and experiences are planned according to the above areas of Learning and Development. Some children will exceed these areas before the end of the Reception year, others will continue to be working towards some or all of the areas. In all cases planning will be informed by observations and assessments of the children, enabling them to make good progress throughout the Early Years Foundation Stage and into our Infant classes.