Our Early Years is a happy place where children are motivated and encouraged to learn from the tender age of 2½ up to 5.
Kindergarten is for children aged 2½ to 3½
Pre-Prep is for children 3½ to 4½
Reception is for children aged 4½ upwards
Our Kindergarten children can attend a minimum of three full day sessions per week and we would expect Pre-Prep and Reception children to attend full time. Our school is open 38 weeks per year, (term time only with an option to pay extra for holiday club provision) and our school day begins at 8:10am and finishes at 3:10pm for all Early Years children. All children aged 2-5 receive a portion of fresh cow's milk each day at snack time under the Cool Milk scheme, as well as a healthy snack and lunch. We also offer an additional excellent 'wrap around' care service of both breakfast and after school club and a variety of after school activities and clubs.
We have a wonderful complement of very experienced Early Years Teaching Staff who create a fantastic learning environment by providing a balance of exciting and challenging learning opportunities to stretch the children academically whilst creating a calm and nurturing environment for them to grow!
We provide an educational journey for children that starts in Kindergarten and continues through Early Years and Infants, before concluding in the Juniors, with each stage structured for continued growth and preparation for secondary school.

Millie's Mark
Breaside have been awarded Millie's Mark!  This is a great achievement for us as a school and we are grateful for all the hard work and commitment from our staff  towards helping us to exceed health & safety and paediatric first aid requirements.
Millie's Mark is only awarded as a special endorsement to childcare providers that go above and beyond the minimum requirements by having 100% of staff trained in paediatric first aid, and also ensuring that everything learned during the course is kept alive and in the forefront of practitioners' minds so that they are confident, ready and capable.
What will your child learn in Early Years?
Our youngest children are given the opportunity to take part inin PE & Gymnastics, Yoga, French, Spanish and Music which are taught by our specialist teachers. At this young age our Kindergarten children gain the independence and confidence needed for later in life through this multitude of opportunities.
Early Years Foundation Stage
Our children enter the Early Years at 2½ years of age.  Our Early Years Foundation Stage Curriculum is broad, balanced and great emphasis is placed on the child's individual needs and progress. We combine a variety of teaching and learning activities to help the children to learn through play as well as starting their journey on the learning of phonics and numbers. By working with the children in small groups and 1:1, we are able to help the children develop in many ways and to prepare them for their academic journey through to Reception.
The Early Years has a wonderful ethos where our youngest children can experience their first taste of Breaside and the children learn in a colourful and stimulating environment. Our Early Years children develop their confidence and self-esteem in other areas too such as in their annual performances to parents and friends at Harvest time, Christmas time, Mother's Day and Father's Day.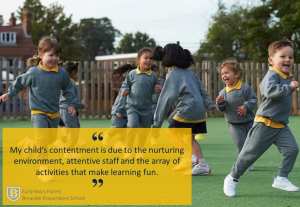 Children start to learn about the world around them from the moment they are born. The care and education offered by Breaside Early Years helps children to continue to do this by providing all children with interesting activities that are tailored to their age and stage of development.
The Early Years Foundation Stage curriculum is set out in the attached document, published by the Qualifications and Curriculum Authority and the Department for Education and Skills, and called Curriculum Guidance for the Foundation Stage.
All of the Early Years year groups enjoy busy, well planned and stimulating daily timetables with an excellent mix of academic, fun and calming activities across the whole day.  We look forward to welcoming you soon so you can see for yourself what an amazing place the Breaside Early Years department really is!
Reception Curriculum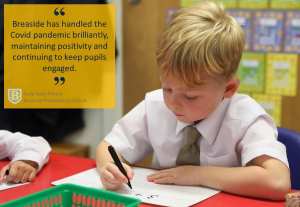 At Breaside our Reception classes continue their learning through the Early Years Foundation Stage Curriculum and follow guidelines set out in a document, published by the Qualifications and Curriculum Authority and the Department for Education and Skills, and called Curriculum Guidance for the Foundation Stage.  Our children then progress to Key Stage One.
Key Stage One Curriculum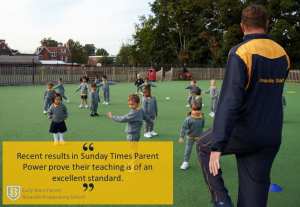 At Breaside children from Kindergarten through to Year 6 are given the opportunity to be educated by our team of specialist teaching staff.
French is taught in the infants department from Kindergarten upwards. Spanish and German clubs are also on offer and as a school we are very aware of the future needs of our children in the global economy in which we live.
Art – All our children participate in art and craft activities where they can develop their powers of observation, technical skill, presentation and individual creativity.
Sport – At Breaside, we encourage healthy competition in PE and Sports, offering fixtures with other schools and the teaching and practising of skills in lessons. We consider sport to be an integral part of education and development. Our Sports Days are held in the summer term to which all parents are invited. As well as making full use of our own facilities, the school also has use of the local cricket club for lessons.
Music – is taught by a specialist teacher in a dedicated, fully resourced classroom to pupils from Kindergarten to Year 6. Key skills taught at this early stage are matching pitch, keeping a steady pulse, and copying different rhythms and pitches both with voices and a variety of tuned and untuned percussion instruments. All Kindergarten and Pre-Prep children are encouraged to perform to parents and friends in our Christmas productions and at other festivals within the school year.
Science is taught by a specialist teacher in a dedicated, fully resourced classroom to pupils from Year 2 upwards. We have an interactive whiteboard and IT resources including a variety of computer simulations for teaching topics such as the Earth, Sun, Moon and Gases around us. We have a wide range of biological models, measuring and circuits equipment together with vibrant, colourful posters and textbooks.
ICT is taught in the infants department from Reception upwards. Many opportunities are provided for all of our children from photography, computerised toys,  interactive whiteboards and of course our fully equipped ICT suite.
The learning environment, activities and experiences are planned according to the above areas of Learning and Development. Some children will exceed these areas before the end of the Reception year, others will continue to be working towards some or all of the areas. In all cases planning will be informed by observations and assessments of the children, enabling them to make good progress throughout the Early Years Foundation Stage and into our Infant classes.

Early Years and Reception Curriculum
The Early Years Foundation Stage Curriculum is organised into seven areas of development and learning, three prime areas and four specific areas.
Three Prime Areas:
Communication and language
Physical development
Personal, social and emotional development
Four Specific Areas:
Literacy
Mathematics
Understanding the world
Expressive arts and design
---
| | |
| --- | --- |
| Activity | Description |
| 1:1 work | This is a time that each child will sit with their key worker and complete topic- based learning e.g. maths, literacy. |
| Carpet Time | Children sit on the carpet for short periods for whole class input from the teacher |
| Choosing activities | Children choose their own activities set up the teacher and linked to current topics |
| EAD | Expressive Arts and Design (EAD) is one of the seven areas of the early years foundation stage and is used to develop a child's imagination, creativity, and their ability to use media and materials. Children are encouraged to do this in range of ways including singing songs and making music, dancing, playing with colours, textures, and design. All these approaches to expressive arts help children to represent and understand their own feelings and ideas. |
| Educational programme | The children will watch short educational programmes that are linked to the weekly topics and used as discussion tools. |
| Focus activity | Each Key Worker has a designated group of children that they will work in a small group for a focus activity on a particular area of learning or topic. |
| Forest School | Forest School is a specialised and regular approach to outdoor learning that aims to develop confidence and self-esteem through hands-on learning in woodland environments. Children change into outdoor clothing and wellies so can attend in all weathers. They recap the rules of Forest School and talk about the weather and seasonal changes and risk assessing to take account of these. The children then take part in child-initiated exploration then re-group for hot chocolate and biscuits. |
| Music and French | Sessions are led by one of our subject specialist teachers. |
| Outside classroom | This is where the classroom is extended to the outside area, children can choose to learn inside or outside and engage in the many activities on offer. |
| PE | Indoor and Outdoor PE sessions led by our PE Coaches who help the children to develop their physical skills such as throwing, catching, and coordination. |
| Phonics | Group work based on ability where the children learn letters and sounds and how to apply then in reading and writing. They progress to learn digraphs and trigraphs. |
| PSED | Personal, Social And Emotional Development (PSED) supports children to learn to get on with others and make friends, understand and talk about feelings, learn about 'right' and 'wrong', develop independence and ultimately feel good about themselves. |
| Snack time | Children have a healthy fruit snack, milk or water each day. |
| UTW | Understanding the World (UTW) is one of the four specific areas of learning in the EYFS framework. It involves guiding children to make sense of their physical world and their community through opportunities to explore, observe and find out about people, places, technology, and the environment. |
| Yoga | Yoga session are taught by Miss Jackson Head of Early Years |