Breaside Year 5 & 6 Visit Harry Potter Studios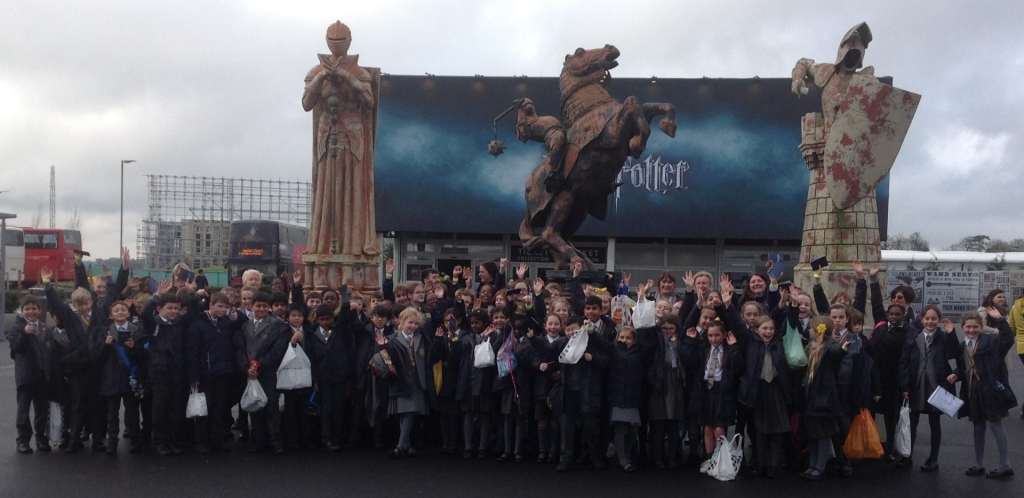 On Thursday, all of a very excited Years 5 and 6 boarded a coach bound for Hogwarts School of Witchcraft and Wizardry. We were on our way to explore the Harry Potter Studios! We were lucky enough to see up close the amazing sets and costumes used during filming, explore the Forbidden Forest and even board the real life Hogwarts Express on Platform 9 and ¾.
Here are two reviews from our Year 5 children:
"Yesterday morning, Years 5 and 6 went to the Harry Potter Studios in Watford. It was a long journey (2 hours!) and we were all sorted into the four different houses of Gryffindor, Slytherin, Hufflepuff and Ravenclaw. When we go off the coach, we had a quick biscuit break before making our way inside and collecting our Harry Potter passports. Firstly, we watched a short film in the cinema and then we made our way into the Great Hall. It was amazing! My favourite part was the scale model of Hogwarts Castle. Did you know it was built to a 1:24 scale? It was a great day and I really enjoyed myself!" By Alanna 5G
"Yesterday, we visited the Harry Potter Studios in Watford, North London. We got to see lots of the original sets, props and costumes, which were amazing. However, my favourite part was surely Platform 9 and ¾ – the Hogwarts Express was a treat! After some delicious packed lunches, we took a trip to Diagon Alley and after seeing some scale models and concept drawings, we departed after a wonderful day." By Beatrice 5G
All that is left to say is a massive thank you to the staff who helped to make the trip possible and worked so hard on the day. Thank you to Mr Duke for his help with organising it and thank you to Mrs Irwin, Mrs Millican, Mrs Reed, Mrs Munday, Mrs Manley and Mrs Clarke for coming on the trip with us.
Miss Golds
Published on: 16th March 2018