I am delighted that you have decided to find out more about Breaside Preparatory School. I hope that our website contains all of the information you need and that you enjoy your virtual tour.
Breaside is a happy school with a kind and caring ethos. Our aim is to provide excellence in education. Our children enjoy learning, are well motivated and have very high expectations of their own individual achievements.
At Breaside we believe education to be a three-way partnership between parent, teacher and pupil. We are keen to develop and promote this important relationship.
I very much look forward to welcoming you in person to Breaside in the very near future and would like to thank you for the interest you have shown in our school.
Yours sincerely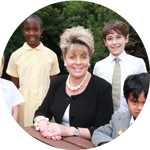 Mrs Karen A Nicholson
Executive Principal
Governance of Breaside Preparatory School
Leadership
Executive Principal  – Mrs Karen Nicholson
Deputy Headteacher  – Mrs Amy Wicks
Deputy Headteacher – Mr Gareth Jackson
Proprietor
Group Chief Executive Officer, Cognita Schools – Mr Frank Massen
Governor
Chair of Governors – Mr James Carroll
Director of Education
Mr James Carroll
---